Back
Start Up Grind Gibraltar Director Receives Director of the Year Accolade in San Francisco
14 May 20
On February 11th and 12th 2020, the Fox Theatre in Redwood City, California played host to the annual Startup Grind yearly "Global Conference powered by Google for Startups." The Global brand now boasts over 600 city chapters globally. Denise Matthews, a former 'Rookie of the Year' winner, attended as Gibraltar Chapter Director this year, and picked up the revered 'Director of the Year' award, representing the first time a female Director has received the prestigious accolade. The Gibraltar Chapter also captured three other awards this year, including: Awesome and Constant, Sponsors and Ticket Sales and Best Team Player.
The event is geared towards fostering entrepreneurship in cities around the world, and provides a platform of engagement for startups, tech leaders, and leading companies at the forefront of innovation. This year the Startup Grind celebrated its 10th Anniversary, with approximately 10,000 attendees in San Francisco.
Winner of this year's 'Director of the Year' award, Denise Matthews is owner and founder of events company OME, Trustee of the Gibraltar Digital Skills Foundation, and also serves as Chapter Director of the highly successful Startup Grind Gibraltar network. Under Denise's stewardship, the Startup Grind Gibraltar Chapter has been a longstanding showcase example of how to run a successful Chapter in a small population, characterised by a community up to 100,000.
Commenting on her accolade, Denise Matthews said: "There has been so much interest about the awards for our Chapter and although it has been a major achievement to get the recognition, the value personally actually comes from the work we deliver by leveraging amazing people and projects."
Hosting monthly events locally since launching in March 2017, Startup Grind Gibraltar has partnered with many organisations, educators, businesses, politicians, investors, startups and charities to support the start-up community in Gibraltar. Leveraging these partnerships has been instrumental to the ongoing success of Gibraltar's local chapter within the global community. Sponsorship and collaborative initiatives from Gibraltar Finance and Abacus Gibraltar have embedded the events into the local business community. These initiatives provide invaluable resources for new businesses and startups relocating to Gibraltar to make lasting connections.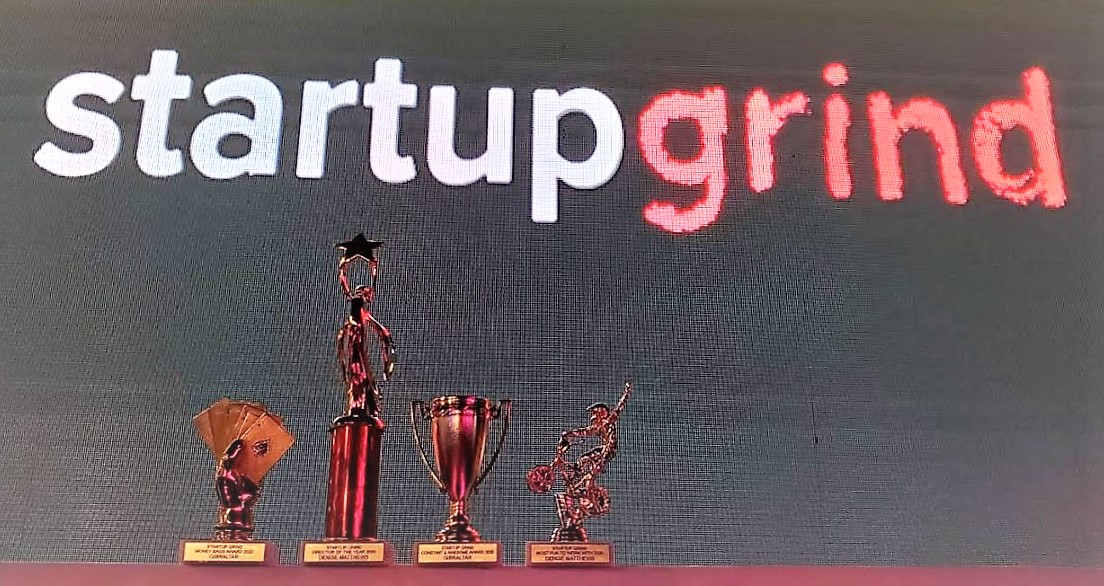 Shortly after the pandemic took hold and imposed isolation became a reality, Derek Anderson the Founder of SG and Bevy, the software platform we use, sent a message to the global community, articulating the strong internal sentiment to embrace collaboration.
Anderson said, "Here also lies an opportunity. Startups will need more help than ever. And we're committed to being there for them. In the long run, humans are going to continue to want and need to gather and meet with each other. It's been like this for thousands of years and while we may have a longer 3-6 months, or more, than we'd like with the stress of this news, our community will continue to invest long term in the value proposition that we offer."
Efforts are ongoing to ensure Gibraltar emerges from the pandemic on assured footing, ready to continue on a positive upward trajectory. As such, all stakeholders will contribute their considerable talents to the task of re-engaging our economy.
Albert Isola, Minister for Digital and Financial Services and part of the leadership of 'Task Force Future', a forward-looking initiative created by Chief Minister Fabian Picardo commented, "Gibraltar's credentials as a progressive and supportive start-up environment are undisputed. Startup Grind Gibraltar has been a major success story for our jurisdiction, and bringing four awards home from the Global Conference is testament to this fact. I look forward to future successes for the Gibraltar Chapter as they continue to broadcast the virtues of our startup ecosystem on the global stage."
---